On-demand surveys to help boost your CTR on YouTube
Get feedback on thumbnails and titles from real people – in minutes, not weeks. Use this data to get more clicks and more views on your videos!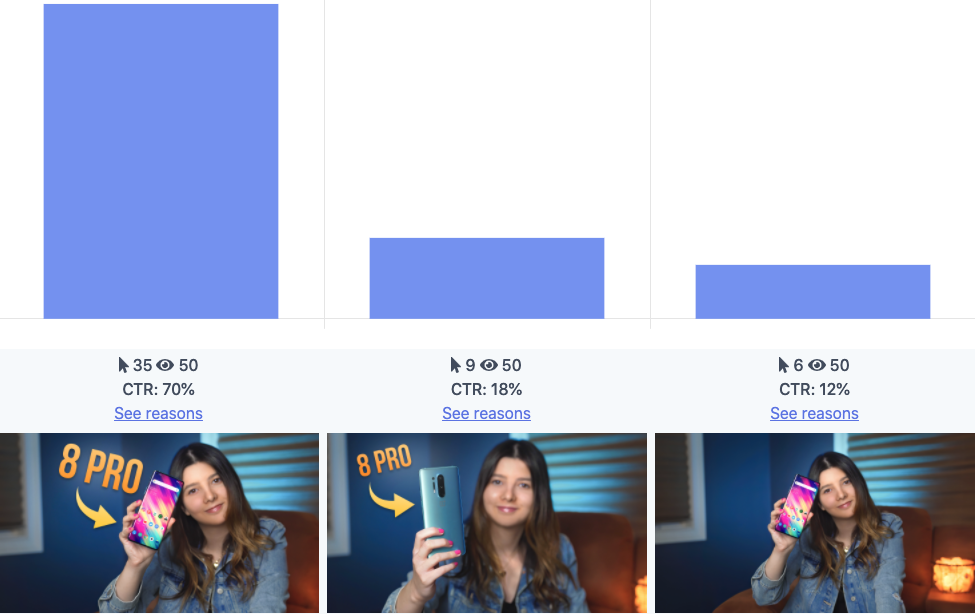 Trusted by more than 1,000 Youtubers
Thoughty2
4.0m subscribers
Thumblytics helps you...
Compete
Compare the clickability of your thumbnails and titles against your competition.
Optimize
Can't decide which thumbnail or title to use? Test which version is most clickable and make a data-driven decision!
Understand
Learn why people pick one thumbnail or title over another. Thumblytics captures the reason behind every response.
How Thumblytics works
We survey hundreds of real people and crunch the numbers...
...so you can use more clickable thumbnails and titles that drive more views
FAQ
Can I run tests before I publish my video?

Yes, all Thumblytics tests are run externally to YouTube and can be run whenever you choose. Testing your thumbnail or title before you publish allows you to capture more of the intial spike in views that often comes in the hours immediately after publishing.

How does Thumblytics collect data?

We collect data by capturing the behaviour of the people we recruit for each survey. We show each respondent the thumbnails or titles you upload (in the format of a YouTube mockup) and ask them "Which video would you watch?" and "Why?".

Who are my thumbnails or titles shown to?

We test your thumbnails with respondents we recruit and pay. Respondents come from a range of countries and age groups.

Does using Thumblytics put my videos/channel at risk?

All Thumblytics tests are run externally to YouTube and do not negatively impact your channel or videos. We gather, process, and present you with the information you need to make better decisions with your thumbnails and titles so that your videos organically perform better!

How can Thumblytics help me take advantage of the YouTube algorithm?

Whether your video is recommended by YouTube is influenced by a range of factors. Of the factors that you can impact, the two largest are: (i) CTR (Click-through Rate), and (ii) AVD (Average View Duration). CTR can be thought of as the proportion of people who click your video after seeing it. Thumblytics helps you run quick and easy surveys to help you choose the thumbnail and title with the highest CTR for your video.

How long does it take to run a test?

The more responses you are trying to collect, the longer the test will take. It usually takes us around 30 minutes to collect and process data from 100 respondents. However, this can vary slightly depending on the time you run your experiment (e.g. turnaround time may be longer on weekends as less of our respondents are online).

Have another question?

Have a question we haven't covered? Just send us an email at contact@thumblytics.com and we'll get back to you.